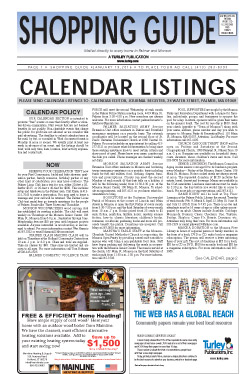 SHOPPING GUIDE 100% Direct Mailed to 12,265 homes
Direct Mailed to Palmer, Monson, Brimfield, Holland, and Wales
24 Water Street
Palmer, MA 01069
(413) 283-8393
Fax: (413) 289-1977
Circulation: 12,794
The Shopping Guide started as a carrier delivered shopper.
The paper had a long time reputation for getting results for its advertisers. The front page was and still is sold a full year in advance.
As the years went by, the distribution was changed from carriers to direct mail. At that time, the name was changed to the Shopping Guide and the community calendar was added.
Direct mailed to over 12,000 homes in Palmer, Monson, Brimfield, Holland, and Wales, the Shopping Guide is one of the best received papers in the Turley Publications family.
To advertise in the Shopping Guide contact Lisa Marulli at 413-283-8393 or lmarulli@turley.com